---

A collaborative effort by Public Health Resource Society
Ekjut, Child In Need Institute, Chaupal & Idea
supported by
---
Malnutrition is well understood to be a massive multifactorial challenge requiring a multisectoral approach. Various innovations and pilots currently exist to demonstrate separate elements and strategies that have a bearing on malnutrition. However, concerted action towards demonstrating comprehensive 'solutions' that are predicated by a decentralized, empowering process is still lacking. Since these comprehensive community-based strategies  are complex to facilitate, there is a tendency to look for quick-fix product-based seemingly easy solutions based on ready to eat foods, large scale fortification and so on that in fact compromise more sustainable interventions.
Action Against Malnutrition (AAM) is a collaborative project for addressing malnutrition in some of the remotest pockets of the country, using multiple community based strategies that have been tried, tested and validated through experience over many decades. Thus the AAM project has been conceived as a model to demonstrate the importance/effectiveness of community mobilization, systems-strengthening and specific community-based management of malnutrition. This project is being implemented by Public Health Resource Society and its partners, Child In Need Institute, Chaupal, Ekjut, and IDEA in seven blocks spread across the states of Bihar, Chhattisgarh, Jharkhand and Odisha. The financial support to this endeavor is being provided by the Tata Social Welfare Trust.
Target Group: Children in the age group of birth to three years
Strategies:
Building on the collective experience of the Public Health Resource Society, Ekjut and Jan Swasthya Sahyog, a three-pronged intervention has been developed.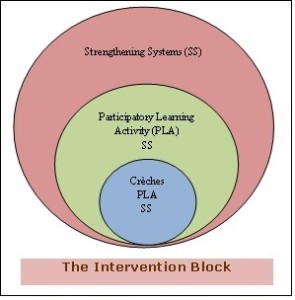 Systems-Strengthening: The main strategy is to improve the delivery mechanism of government programmes through building capacities of communities and service providers addressing malnutrition. The focus is mainly on Integrated Child Development Services (ICDS), Health services (especially those related to immunization, treatment of childhood illnesses, Nutrition Rehabilitation Centers (NRCs), Village level water and sanitation, Public Distribution System (PDS) and Mahatma Gandhi National Rural Employment Guarantee Act (MGNREGA).
Community Mobilisation:  Regular meetings are facilitated in the community on malnutrition, child care, child health and related issues based on the Participatory Learning and Action (PLA) approach. In the meetings, information on nutrition, growth monitoring & related issues is discussed  in order to facilitate community action including finding local solutions outside of current schemes and programmes. A cycle of 18 meetings are conducted with each group which comprises of 15-20 women, mostly in the reproductive age.
Community mobilization also involves facilitating Gram Panchayats in monitoring programmes related to malnutrition and conducting social audits on programmes such as ICDS, PDS and MGNREGA.
Creches: An overall environment of 'Care' that can adequately house interventions related to nutrition and health has long been understood to be critical to be able to make an impact on malnutrition. In a context where poor women spend  much time and energy working for wages,  doing housework, working on land-holdings, looking after cattle and also their children, this determinant of care becomes all the more critical.
Creches are provided for children under three years with special focus on regular growth monitoring, managing at risk and malnourished children and early stimulation. Children are fed three times a day, with special nutritional care based on local foods for malnourished children and children whose growth has faltered. The crèches are supported by the community at every level including identification of location and workers, provision of space, deciding on the menus and participation in the management and supervision. Health check-ups are organized in partnership with the government and it is ensured that children access ICDS and health services that they are entitled to.
Main Features:
Working with children 0-3 years
Mobilizing communities on malnutrition towards preventive, promotional and curative efforts
Strengthening public systems, mainly ICDS and NRHM; but also systems for other social determinants of malnutrition such as water and sanitation, for better service delivery
Attempting to fill the programmatic gaps for child care and community based management of malnutrition
Developing a model for scalability
Influencing the policy environment towards changes that are essential to tackling malnutrition, on the basis of this project.
A full-fledged research protocol and MIS has been developed to monitor and review this project. One of the objectives of this project is to be able to demonstrate a model with rigorous evidence that can be used as a basis for scaling-up through public programmes such as the 'restructured ICDS'.
During implementing this project, existing state government protocols for Malnutrition Treatment Centers/Nutrition Rehabilitation Centers and related efforts are adhered to and followed without duplicating state government services. We believe this project will complement all the efforts that the government is making in Bihar, Chhattisgarh, Jharkhand, and Odisha on malnutrition and will lead to further model-building and greater operational understanding.
Public Health Resource Society hosts the project management unit and manages the overall coordination. An advisory group consisting of experienced and committed individuals along with the participating partner organizations has been formed to periodically review, advice and support this project.
Published Documents
6. Samuday Adharit Nigrani- Report Card (Hindi)
---