---

A collaborative effort by Public Health Resource Society
Ekjut, Child In Need Institute, Chaupal & Idea
supported by
---
Action Against Malnutrition (AAM), the flagship programme of PHRS is a multi-strategy intervention in seven blocks of four states – Bihar, Jharkhand, Chhattisgarh and Odisha through a consortium consisting of Public Health Resource Society (PHRS), Ekjut, Child in Need Institute(CINI), Chaupal Gramin Prashikshan Evam Shodh Sanathan (Chaupal), and Institute of Development Education and Action (IDEA). The programme is supported by Tata Social Welfare Trust. The AAM programme has been conceived as a model to demonstrate the importance and effectiveness of community mobilization, working with Systems and specific community-based management of malnutrition. The target group of the programme is children from zero to three years of age. This was initiated in June 2012 and completed in three years in May 2015. An extension was approved to continue the project till April 2016 by the Trusts with unspent funds from previous grant and a small bridge grant being allotted for the extension period which was extended till February 2017 with a fresh grant. Tata Trusts has given further no-cost extension till February 2018. However, PHRS is actively looking for funds to continue the crèches. A baseline and endline study done by Ekjut is still pending, and needs to be followed up.
A total of 5384 children and an almost equal number of mothers were reached through crèche programme till March 2017.
Strategies:
Building on the collective experience of the Public Health Resource Society, Ekjut and Jan Swasthya Sahyog, a three-pronged intervention has been developed.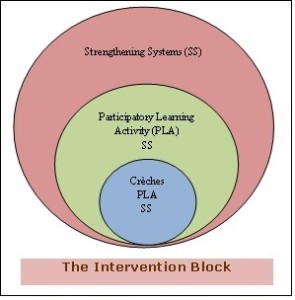 A full-fledged research protocol and MIS has been developed to monitor and review this project. One of the objectives of this project is to be able to demonstrate a model with rigorous evidence that can be used as a basis for scaling-up through public programmes such as the 'restructured ICDS'.
 Published Documents
6. Samuday Adharit Nigrani- Report Card (Hindi)
---