Partnerships for Rural Integrated Development and Empowerment (PRIDE)
in collaboration with
Public Health Resource Society
Partnerships for Rural Integrated Development and Empowerment (PRIDE)
The project Partnerships for Rural Integrated Development and Empowerment (PRIDE), aims to bring about changes by adopting scientific practices around health, nutrition and hygiene. It also aims to increase access to quality public health services through the collective action of Self Help Groups (SHGs). This project is being implemented for a period of three years and is run in areas where both women and children are often under-nourished. The focus areas of the project thus include basic health care and the nutrition needs of pregnant women, young mothers, and infants.
The aim of the project is to develop process protocols to trigger transformation of villages in endemic poverty by adopting scientific practices around health, nutrition, and hygiene along with access to quality public health services. The basic premise for the pilot project is as follows:
Women acting as change agents can bring about all around multi-dimensional transformation of many lives (100,000 women and their children (~250,000)).
Building capacities of women and their collective's triggers mass change.
Successful interplay between empowered citizens, responsive state and engaged markets can be demonstrated.
PROJECT STRATEGY
The PRIDE project has a two-pronged strategy:
Developing the perspectives, skills, and knowledge of women in organized collectives to enable them to take responsibility for all members of SHGs and their collectives
Engaging with the public system to build the capabilities of frontline staff and work at the state level to ensure smooth fund flows around basic services.
Women as Change Makers: the strategy revolves around supporting women who are part of Self Help Groups (SHGs) run by PRADAN. Select women volunteers are actively supported by training them on the project themes (described below). These women volunteers – called Change Vectors – are selected based on their commitment to make change happen in their respective geographies and SHGs. In this phase, the plan is to have at least 2 CVs in each village (one CV per hamlet), who will influence decision making of other women. Having two women as CVs in hamlet is a strategy to support each other as well as function as a cushion against attrition.
The following themes are central to the implementation of the project:

RCH:  Complete ANCs, HRP detection, institutional deliveries, PNCs, Full-Immunization of children, Adoption of IYCF practices, Mineral & Vitamin supplements, etc.
Nutrition sufficiency and Security: Food diversity, linking it to agriculture, dealing with underlying issues of gender (e.g. intra-family food distribution, early marriage, early pregnancy, leading to low birth-weight babies, etc.)
Communicable/Endemic diseases: Preventive community led efforts to adopt best practices to deal with 1-2 key endemic diseases in the local area.
Systems strengthening at all levels (block and state): to actively engage in systems strengthening at the state and district levels. At the village level 3-4 mentors from each block will be actively involved in systems strengthening. Activation of the community-public system will be done in close collaboration with the block level Federation of SHGs and PRADAN.
Geography of the project: Four blocks of Jharkhand under the project area are: Torpa, Raidih, Poraiyahat, and Gola. These blocks cover different geographies in Jharkhand.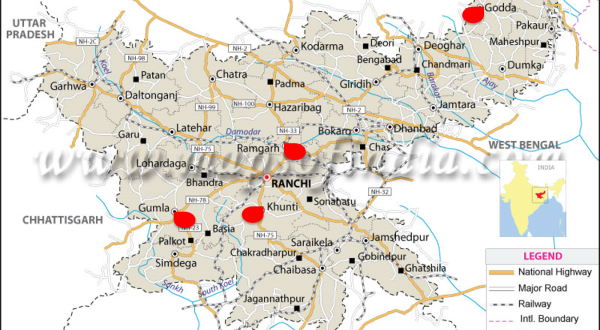 Two new blocks – Narhanpur in Kanker, Chhattisgarh and Jashipur in Mayurbhanj, Orissa – have recently been added to the PRIDE project. Work will begin in these areas soon.
Training strategy: a cascade training strategy has been designed for training SHG members. The strategy involves the development of a pool of Master Trainers in the curriculum developed around the project themes. These Master Trainers then train the block level pool of trainers. The block level pool of trainers consisting of mentors, block coordinators, federation members, and CVs. Of this pool, two trainers will undertake ongoing mentoring of the CVs as they go about implementing what they learn from the Master Trainers.  The CVs will conduct meetings with their SHGs and impart knowledge on the thematic areas that have been spelt out in the project.